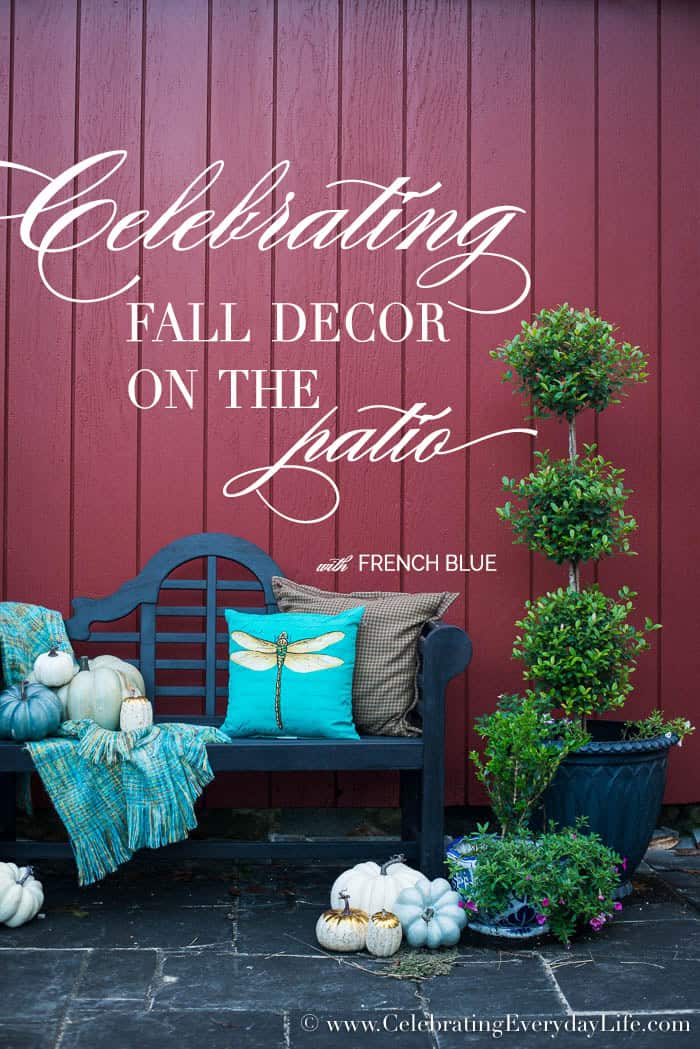 Today I am sharing more Fall Patio Decor Ideas but this group all has a twist of French Blue & White! On my back patio I have two of these Lutyen benches – which I adore – and I decided to style them two ways. Today, I'm sharing the first one which I've styled in soothing provincial blue and white – with a hint of gold. It's an non-traditional combination for Fall but honestly it's becoming one of my favorites, especially with all the pumpkins that are available nowadays. Won't you join me on the patio for a quick tour?
I spent a lot of time this summer looking for the perfect benches for this patio, and I fell in love with the Lutyen style. It's interesting shape was everything I was hoping for, but the high price tag I found on most sites left me feeling pretty discouraged, until I came upon this one at Walmart.com. At around $150 each, I was getting into the "ballpark" where I could afford to get more than one! Plus, I lucked out one day when they were having a sale! Woo-hoo!
Anchoring the bench on each side are these Better Homes & Garden Clearwater Pots, also from Walmart. I planted these triple-ball Eugenia topiaries (which I lucked out and found in the greenhouse at my local Walmart too) in them. Good grief! This post really isn't brought to you by Walmart, but it kinda feels like it – I shop there a lot! 🙂
The throw is one of my favorite elements in this vignette – I found it at HomeGoods and that blue color was positively irresistible to me!
There are pumpkins galore – I tend to go overboard with them each year…. The blue and green pumpkins are from Michaels Craft Store (which is having a pretty great sale right now by the way!).
The pumpkins with the gold accents are from Walmart this season. I found them adjacent to the fabric area in my local store. I mention this in case you want to look for them, they were not with the other pumpkin decor near the front of the store.
They each have such great details! You'll be seeing these guys again in some tablescapes 🙂
It's a very sweet spot to sit in the afternoons to just sit and "be," although I do not do this nearly as often as I wish I did. I tend to run a mile a minute and have yet to figure out how to do it all. But at least when I take the time to photograph these spaces I am forced to take a moment and just "enjoy" them, and for that I'm very grateful.
Next year I'm going to keep an eye out for more all weather pillows because while the dragonfly pillow (also from Walmart) is outdoor safe, the other is not. So I do have to move the throw and large pillow in and out which isn't a huge deal, but I'd rather have it ready for those rare moments when I just want to step out and sit down with no planning ahead. Or, you know, those rare moments when you are out walking, or puttering in the garden, and look up, and this lovely setting would automatically beckon you over to itself. Ah, the dream!
I hope you liked this little tour. Stay tuned for the other bench, it's bedecked in luscious oranges and chocolates! I think you'll like it!
'til then, thank you so much for reading + sharing – it's a huge blessing!
Happy Celebrating!