Sometimes I try recipes and they work out perfectly, other times I try them and they are a cooking disaster, and then there are still other times when I set out to make one thing and find that it morphs into something a little bit different. This doesn't just happen to me right? Have you experienced this too? Today I'm sharing one of those recipes. I set out to make mini caramel apples, but I ran into a few technical difficulties… namely trouble getting the caramel to actually stick, and then my daughter and I discovered that these little apple bites were amazingly delicious when eaten fondue style – you know dipped in warm caramel and eaten immediately. Yum!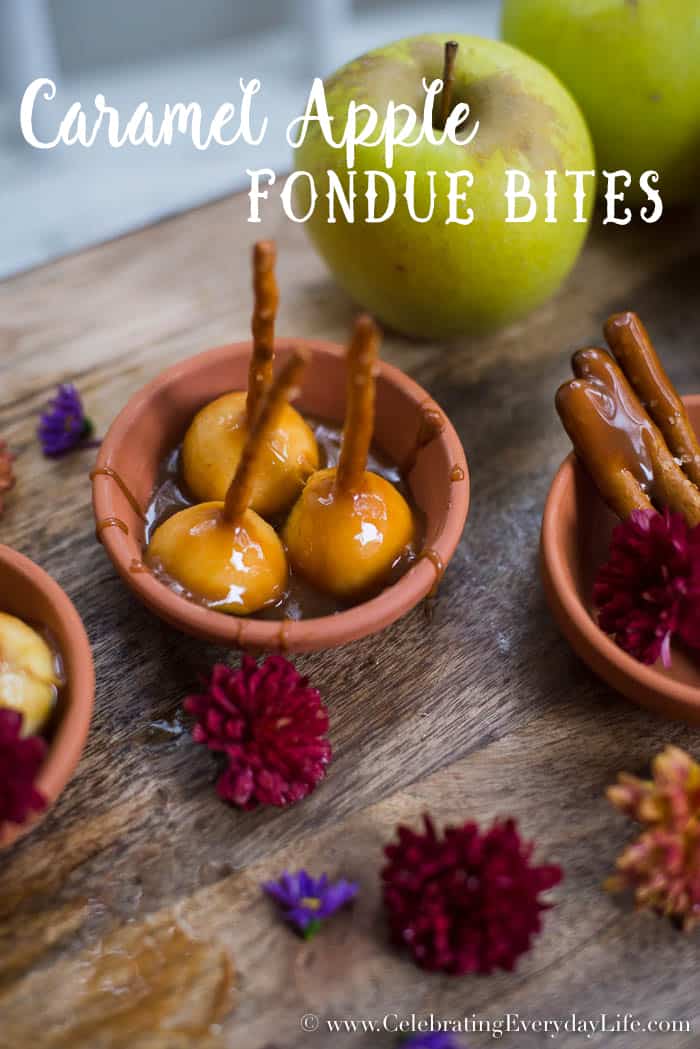 When we put the dipped apples in small bowl like these mini terracotta pot saucers turned serving dishes, the apples can be swirled in the caramel and gobbled right up – yum, yum, yum!
We also discovered that pretzels are pretty spectacular when dipped in caramel too. A happy accident!
I'm still on a mission to get better at making caramel apples, but in the meantime, here's what we used to make these: Caramel bits, pretzel sticks, apples and a melon baller. That's it!
Process: take a melon baller and scoop out the apple. Next DRY YOUR APPLES! Caramel definitely won't stick to wet apples so use a paper towel and make them as dry as you can. Place a pretzel stick into each piece of apple, then melt your caramel, dip + eat!
Do you have tips on making caramel apples that you can share? If so, please do! Is there a brand of caramel or recipe that you've had good luck with? Or maybe some other trick? I know I've seen some recipes that suggest you use sandpaper on the apple peels, but that's if you are dipping whole apples. Unfortunately whole apples on a stick don't really appeal to me, you end up with way more apple then tasty apple to caramel ratio. I am way more excited about the idea of little balanced bites… so I am hoping to figure this puzzle out.
Thanks for sharing any ideas you have!
Happy Celebrating!