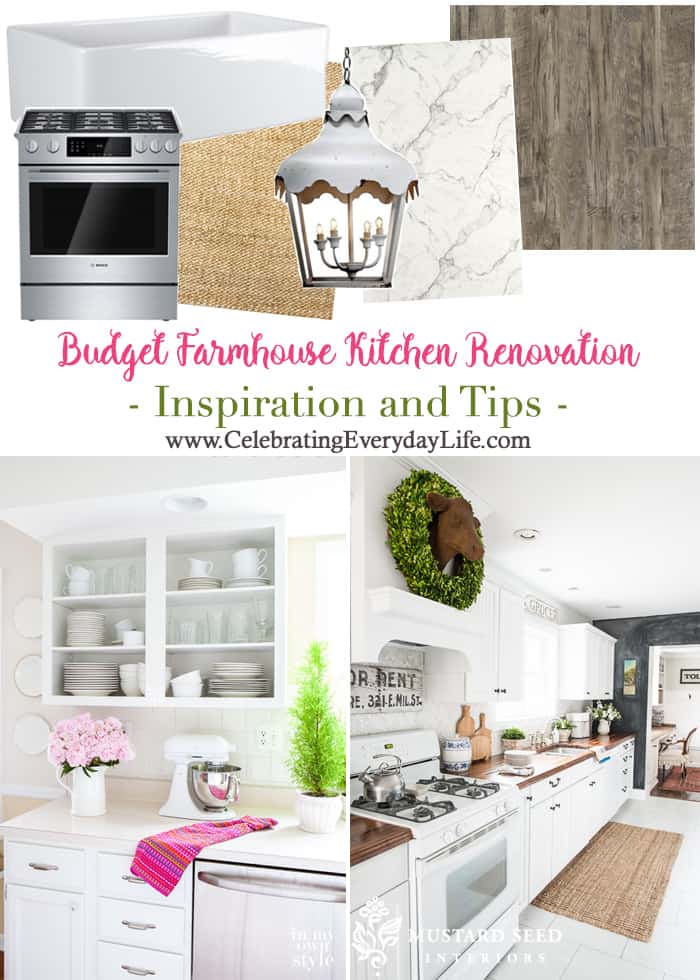 I am planning my Budget Farmhouse Kitchen Renovation and I can hardly wait to get started! Naturally I'd love to get it done all at once, but I am on a string bean budget, so I'm going to have to do this a little bit at a time. Thankfully the internet is brimming with DIY tutorials to help me figure out what I can do myself and what I should outsource to the pros. I thought it would be fun for us to chat about how to get started when planning to make over your own kitchen whatever style it may be, so let's dive right in!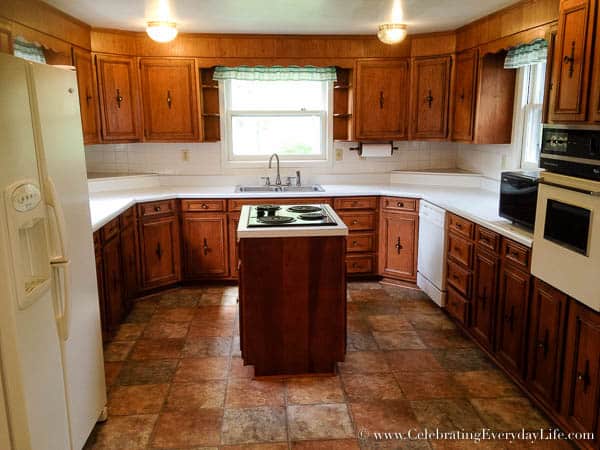 Here's my kitchen "Before" – you can see it's in need of a renovation!
Budget Farmhouse Kitchen Renovation – Tip #1
Narrow your inspiration photos. Pinterest is overflowing with gorgeous kitchens of every style to kick-off the inspiration process, but it can also quickly become overwhelming. I recommend creating a kitchen board and pinning ideas that you are drawn to. Then, look at all the photos on the board and pick just a couple that do the best job of summarizing your vision. As you continue your planning journey you will appreciate the simplicity of one or two inspiration photos to share with contractors, suppliers, neighbors, or anyone whom you can get to listen to you! It will help you stay on track and make decisions more easily.
You can change your mind during the process by switching out photos if you must, but I do recommend keeping it down to just a couple of photos to help your mind stay focused, your gonna be making loads of decisions so try to keep things simple.
My 1st inspiration photo is this glorious kitchen from the always amazing Miss Mustard Seed!
It has colors, textures, and a "feeling" that I very much want to capture in my kitchen. It is simultaneously light and fresh while also being warm and cozy. I like how this photo shows me that I can mix tones the way I want to, even though I will do it in a different way. For example, I know I want white cabinets but instead of wood counter tops, I am inspired by her counter top color for my floors instead! Fresh greens are a must, the sisal rug adds gorgeous texture, and the chalkboard adds a bit of drama and whimsy. There's even some blue & white! For me, this is a great photo to represent my vision even if it's not identical to what I want to do.
My 2nd inspiration photo is from the very creative Diane of In My Own Style:
Again, it's a light and bright space that is brimming with charm and style! I'll admit, she had me hooked at one glimpse of those peonies! I can't wait for my peonies to bloom again! 🙂 I also love the Lemon Cypress – it adds a fun splash. The open shelving, the hanging plates, and white on white tones – there is even a tiny glimpse of a wood floor!  – these are all elements I'm looking forward to incorporating.
Budget Farmhouse Kitchen Renovation – Tip #2
Determine a realistic budget and timeline. This tip cannot be emphasized enough. Think about how much you can spend on this project – both dollars and time. How long can you live with your kitchen being torn up? How much time do you have really to spend on a DIY project.
I've heard that however long you think this will take, multiply that number by 3.
Ouch. I'll have to let you know how mine goes, but I honestly can see how that can happen. Weather, busy schedules, missing parts, the possibilities that can lead to disruptions are infinite. At first I toyed with the idea of starting on the project before Christmas but was wisely counseled to reconsider. I'm so glad I did, the holidays were stressful enough without me adding a kitchen reno to the mix! Think about your upcoming calendar and plan accordingly. I've heard the budget can often fall prey to this multiplication trap which is why I'm trying to take mine slow and steady. If I have overages, I'll take them a bite at a time.
Budget Farmhouse Kitchen Renovation – Tip #3
Pick your "must-haves," prioritize as necessary, and determine what you can do yourself and what you need an expert to do. Here are some of my must-haves:
White cabinets • a gas range • wood floors • marble counters • farmhouse sink • light fixtures• lots of charm!
Now, on their own, this is a pricey list of must-haves. So I have to think about how I can go about getting what I want without blowing my budget.
Cabinets: my existing cabinets are in good condition, they're just the wrong color. Thankfully, I have read enough tutorials to know that paint will totally fix this! So, I will buy the best quality cabinet paint and DIY the dream cabinets I want.
A Gas Range: I happened upon a very fancy gas range at Lowe's one day in the scratch and dent section and got an unbelievable deal. I wasn't planning to buy a stove that day but I knew this deal was rare so I bought it. I have been storing it until I am ready to install it. Keep an eye out and be ready in case you come across a hidden gem! I will have a professional connect this for me. I don't play with gas!
Wood floors: Sometimes you have to compromise. I would love to put in real hardwood floors and one day I plan to. But today is not that day. I am planning to put down a vinyl floor to give me the look I crave while I keep saving. This weathered wood floor at Lowe's is my current favorite. I'm toying with the idea of installing this myself – with help of course. I know it's big and a bit unruly, but I've watched a few tutorials and feel like I could do it, and I'd like to save here if I can. We'll see…
Marble counters: Have you seen the amazing faux Calacatta marble counters that Formica has created?!! I love the look of marble counter tops, but just like my wood floors I can't invest in it right now. But thankfully I don't have too! My friend Lesli of My Old Country House used this exact marble Formica in her kitchen. I've seen it in person at her house, and y'all, I'm telling you it's pretty great! I know some folks have DIY'd countertops – I think that's beyond me, so for now, I'm planning to hire someone for this.
The Farmhouse Sink: there is no substitute for this one. I'm watching for a sale, waiting to pounce. Fortunately I really like my existing faucet so, the sink, the parts to go with it, and the installation are the big tickets here. FYI – I have read over and over to not attempt to install this on your own. This thing is heavy and expensive, making this is an item I don't want to gamble on. I'll be hiring a pro to install this for me. I'm hoping to add a garbage disposal while I'm at it!
Lighting: This will be one of the last things I install. It's also the one I seem to be changing my mind on the most. I love a pagoda style chandelier (I saw this one on ebay) but I may change my mind… I will have an electrician install this since I want to hang it where there is no existing fixture.
Obviously there are going to be lots more decisions to make. I will use the same advice of trying to take my time, shop wisely, and do as much on my own as possible. Stat tuned for my progress!
Want more kitchen makeover inspiration? Check out the budget Kitchen makeover I did at the townhouse I used to live in!
I also share some handy kitchen staging tips here if you are planning to put your home on the market soon!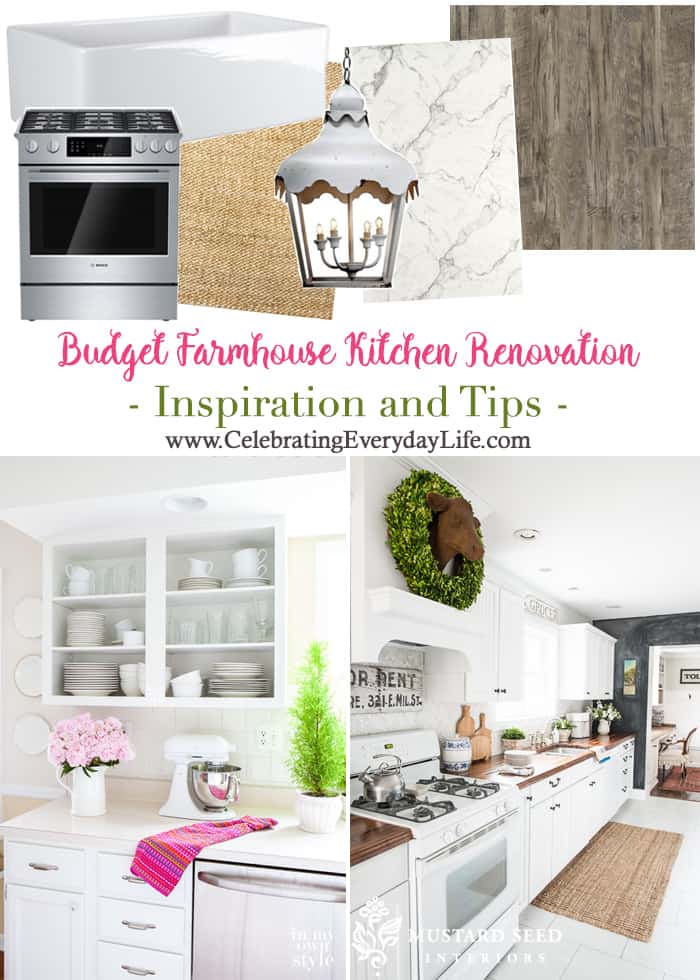 Have you tackled a kitchen renovation yourself before? Any advice you'd like to pass on? A favorite tutorial you found particularly helpful? I'd really love to hear about it in the comments below!!
Happy Celebrating!