There is a pie baking contest coming up next week to benefit the food bank at my church and I was playing with a few recipe ideas today and I had a little bit of leftover crust. I didn't want to waste it so I peeked into the fridge to see what I had on hand that would work. The first thing to catch my eye were some tiny brie rounds from Trader Joes – and I knew that a Baked Brie Bites recipe would be perfect!
Pie crust and brie cheese are the main ingredients you need. First, cut the dough into circles.
Wrap the dough around the cheese and use any extra scraps as necessary to completely cover the cheese. Don't worry that the dough isn't all perfectly smooth, I think it actually looks better with the imperfections…
If you want the crust to have that beautiful golden color, brush with an egg wash.
What makes this so super cute is the tiny pie crust leaf cutout. It has such big impact and yet it's almost embarrassingly simple!
Place the leaf on top of the cheese bundle and brush with a bit of the egg wash.
Bake in a 400° oven for approximately 18 minutes or until golden brown. While these are delicious served immediately while the cheese is ooey-gooey, they are also surprisingly delicious even when served at room temperature.
Crisp, Fall apples are a wonderful compliment to the cheese!
For even "gooey-er" cheese you can cut the rind off the cheese before you wrap it in the pastry.
I am extra busy all the time these days so anything that is pretty and tasty and simple makes me really happy!
You could easily add a little fig preserves or other tasty jam as a sweet compliment.
Want another simple brie recipe? Check out these:
Grilled Peaches and Brie recipe.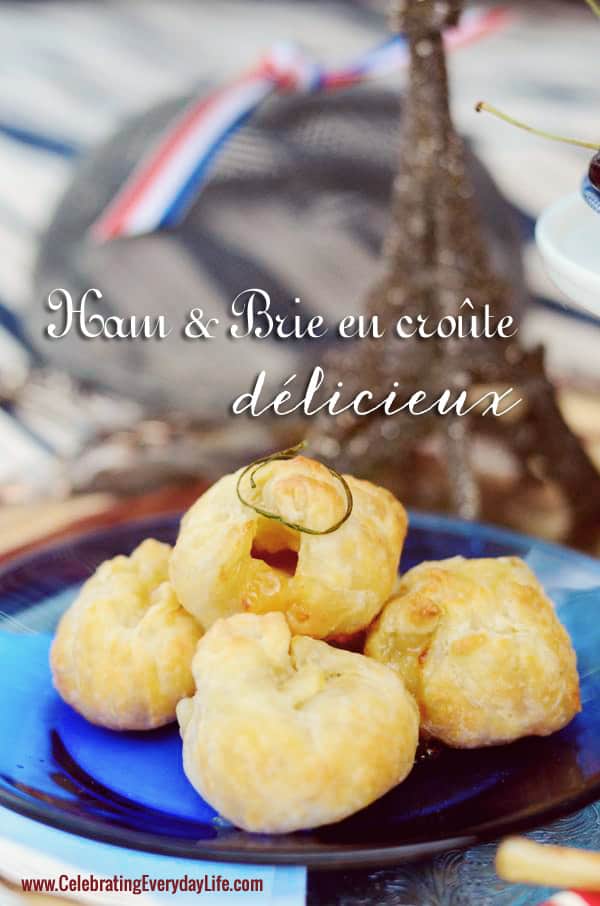 These would pair nicely with a salad for lunch or a light dinner. They travel well, so I think they are great for Fall tailgates, and of course, they are super cute making them perfect for any Fall celebrations you may be planning. Cranberries, raisins, nuts, and pumpkin seeds are all nice compliments to this recipe too!
I hope you like this and will give it a try.
Happy Celebrating!