Oh-la-la, Valentine's Day is just a few days away, and few things are as romantic as dinner in a French café. Am I right? While a trip to Paris this weekend is sadly not an option, I thought it would be très agréable to create a Parisian inspired Valentine tablescape! I invite you to cozy up at this petite table pour deux.

I have a pair of red café style chairs that normally live outside in my garden, but when paired with this tiny table, I can imagine myself snuggled in a cozy little bistro somewhere in the City of Love. Over-sized doilies and cushy pillows make these chairs a bit more welcoming and comfortable for our tête-à-tête.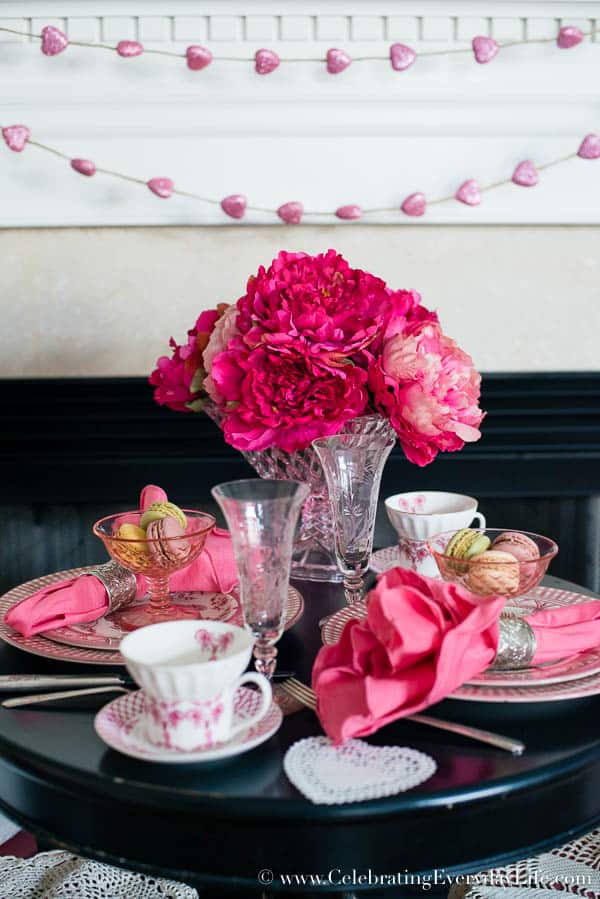 Various shades of pink add romance while the drama of the black table grounds it all, and gives it a tailored edge. It keeps it from feeling like a scene at the Barbie dream house, to me at least.
Quality silk flowers add color and style without screaming "fake!" on the table. Good silk flowers aren't inexpensive, and while I don't always recommend them, when you find the right ones they can be absolutely worth it. Not only can they help when fresh is not available, they can also more than make up for the price tag when you consider the multiple uses you will get out of them. I have had some silks for years!
This pink and white placesetting was a HomeGoods find many seasons ago. The design has a french country style that I find charming. I went through a chicken/rooster phase several years ago and these plates have a rooster on the salad plate. I still have a soft spot for these little barnyard animals although I no longer need to see them in every room of my home. Have you ever gone overboard in design trends like that?
While I have learned to enjoy making my own macarons (see my recipe here), I have to admit to frequently buying these lovely delicacies at my local Trader Joe's grocery (they are in the frozen dessert section). So simple and so tasty!
My favorite thing about this table is its simplicity. Really all were are looking at is a couple of garden chairs paired with a pretty placesetting. I love that when you design around a theme – say pink and black with a french twist (in this case) – it's shocking how quickly and easily you can create a charming scene that is alluring and won't take all day to replicate!
I encourage you to look around and think "outside the dining room box" when planning a romantic dinner for two. Perhaps a couple of garden chairs and a small table set in front of a fire will be just the ticket to rekindle the flames of romance for you and your loved one this Valentine's Day.
I thank you so much for reading and sharing this Parisian Valentine tablescape post. It is my hope that you find a nugget or two of inspiration to help you go forth and celebrate with style and ease this holiday!
p.s. I am sharing this over at Between Naps on the Porch!
Happy Celebrating!