Cranberry Pineapple Punch recipe ~
Welcome to some of my favorite (and easiest!) Thanksgiving Recipes! First, let's start with this punch – it is so refreshing and just plain yummy! Simple too.  Want a twist? Champagne could easily replace the ginger ale for a sparkling cocktail!
Here's the recipe:
2 cup Cranberry Juice
2 cup Pineapple Juice
4 cups Ginger ale
whole, fresh cranberries
1 – Mix juices in a pitcher and slowly add the ginger ale. (Pouring too quickly will lose the fizz.) Garnish with whole, fresh cranberries. Cheers!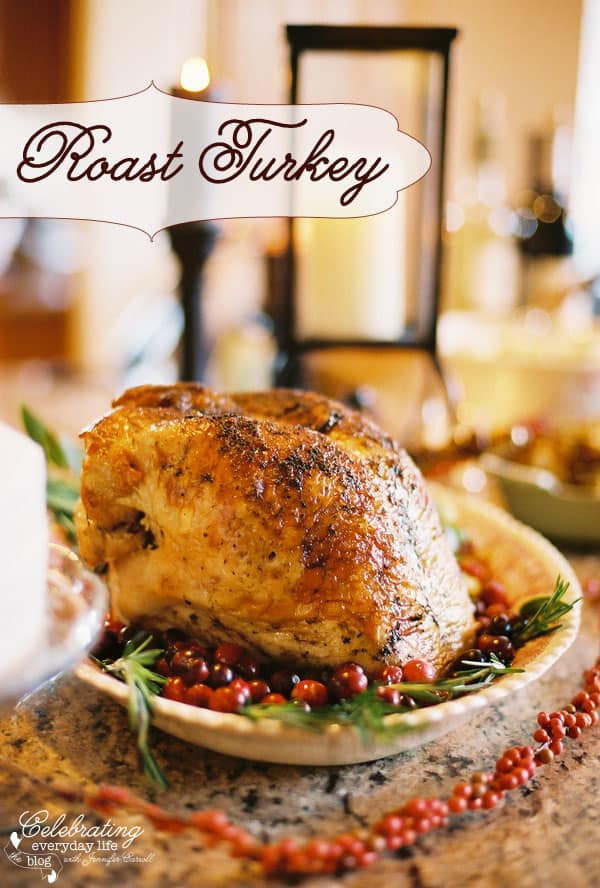 Easy Roast Turkey recipe ~
There are tons of recipes out there on how to roast a Turkey. I've tried a lot of them.  A few years ago I devised this no-fail recipe and have never looked back! The secret to the juiciest, most delicious bird ever?  An oven bag! This little bag takes all the guesswork out of making a tender turkey. It's easy and doesn't require my constant attention, leaving me free to watch the parade and work on some side dishes. I normally bake a turkey breast but this recipe works for a whole turkey too.
1 fresh turkey breast, rinsed and patted dry
1 oven bag for turkey, 8 to 24-pound size
vegetable oil spray
1 tablespoon flour
1 large Vidalia onion, coarsely chopped
2 celery stalks, coarsely chopped
2 carrots, peeled and coarsely chopped
1 stick softened butter
2 tablespoons of salt
2 tablespoons garlic pepper
1 teaspoon thyme
1 teaspoon sage
1 – Preheat oven to 350°F.
2 – Shake flour in oven bag; place in a large roasting pan at least 2 inches deep. To reduce having the turkey stick to the bag, spray inside of the bag with nonstick spray.
3 – Chop onions, celery and carrots, and place in oven bag. Rub softened butter liberally all over turkey. Sprinkle salt, garlic pepper, thyme, and sage all over turkey (inside too!).
4 – Place turkey in oven bag on top of vegetables. Close oven bag with nylon tie; cut six 1/2- inch slits in top. I recommend inserting a meat thermometer through slit in bag into the turkey to monitor cooking temperature. Tuck ends of bag in the pan, careful that bag is not overhanging pan.
5 – Bake approximately 2 1/2 to 3 hours or until a meat thermometer reads 165°F. Note: I allow a little more time so that I can brown the top of the bird to a beautiful, golden color. Don't be afraid to use your broiler at the very end, if necessary. Just don't walk away from it if you do.
7 – Allow turkey to stand in the bag for 15 minutes before opening and carvings. Reserve bag liquid for gravy.
Cheddar Biscuits with Herb Butter recipe ~ 
Drop biscuits are so easy to make because you don't have to allow extra time and effort to roll the dough, cut out, etc… Just mix, drop by onto the pan and bake. I love it! Yield: 8-10 biscuits depending on the size of your drops.
2 cups Bisquick baking mix
1 cup shredded cheddar cheese
2/3 cup milk (I use 2%)
2 tablespoons butter, melted
1/4 teaspoon oregano
1/4 teaspoon thyme
1/4 teaspoon sage
1/4 teaspoon salt
1 – Preheat oven to 425°F.
2 – Mix Bisquick mix, cheese, and milk together in a bowl. Blend until well combined. Note: it's a very thick dough.
3 – Using two spoons, drop dough by the spoonful onto an ungreased cookie sheet.
4 – Bake 5 minutes. Meanwhile, combine melted butter with oregano, thyme, and sage. Pull biscuits out of the oven after 5 minutes and brush herbed butter on top. Place back in the oven to finish cooking, approximately 5 minutes, or until golden brown.
5 – Brush warm biscuits with remaining melted butter before serving. Serve warm.
Pumpkin Layer Cake recipe ~
What's a feast without dessert?  I love all different types of desserts but right now pumpkin cake is really "speaking" to me! I made this cake this past Thanksgiving and there were no leftovers which was really disappointing to me because I think this cake just gets better the longer the flavors have to mix together.
Cake:
baking spray
1 box spice cake mix (18.25 ounces)
1 cup canned pumpkin
1/2 cup milk (I use 2%)
1/3 cup canola oil
3 large eggs
1/2 teaspoon ground cinnamon
1/2 teaspoon ground nutmeg
1/2 cup chopped pecans, toasted
whole pecans

Frosting:
8 ounces cool whip
8 ounces cream cheese
1 cup, sifted confectionery sugar
1/2 cup butter, softened
2 teaspoons vanilla
1 – Preheat oven to 350o. Spray 2 – 9" round cake pans with baking spray. Pour a little of the spice cake mix into pans and shake to coat, tap excess into mixing bowl.
2 – Place cake mix, canned pumpkin, milk, canola oil, eggs, cinnamon and nutmeg in a large mixing bowl and blend until well combined. Check the sides and bottom of the bowl to be sure it's well combined. Divide the batter evenly between the pans.
3 – Bake until a toothpick inserted into the center comes out clean, about 28 minutes. Remove the pans from the oven and allow to cool for about 10 minutes. Turn cakes out on to a cooling rack to finish cooling.
4 – Place chopped nuts on a baking sheet and bake at 350o for about 2 minutes or just until you begin to smell them.
5 – Meanwhile beat cream cheese until soft, add sifted sugar, softened butter and vanilla. Once well-combined use a spatula to hand mix the whipped topping.
6 – Once cakes are cool, spread frosting on the bottom layer of cake. Sprinkle chopped nuts all over frosting. Place other layer on top of the cake. Frost entire cake. Garnish top with whole pecans in a pattern of your choice.
I hope you give one (or all!) of these Easy Thanksgiving Recipes a try! Have a favorite? Please let me know!
Thanks again to Jen Fariello for taking these photos for me!
Happy Celebrating!