The hydrangea bushes are blooming in my parent's backyard and they look so spectacular this year, I just knew I had to capture them with a special table setting. I have been holding on to a couple of yards of this blue and white fabric for a while now, waiting for the just right project for it, and I knew this was it! And so, a Blue & White Garden Tablescape was born! I have filled the table with practical items for entertaining and a few treasures too.
For the placesetting I decided to layer up! I created this with a mix of antique and new china, uniting them with the timeless blue & white color scheme.
Here's a breakdown of the place setting: The chargers are actually round antique silverplate platters. The next layer from the bottom is a Ralph Lauren "Mandarin" dinner plate. Next is a Royal Staffordshire dinner plate in "Tonquin" topped with a Wedgewood "Sterling" salad plate. A "Tonquin" saucer is the perfect pedestal for the darling Meissen open weave basket bowls.
I found these earlier this summer at a local antique show and I just love them!
This deep blue Jasperware lidded jar (by Wedgewood) celebrating Queen Elizabeth's silver jubilee (which was in 1977, if anyone is curious) is a very special treasure. My sister and I found this last December and it has been proudly sitting on my mantel ever since. I was a little worried about taking it out for this shoot, but I knew it would make this table even more special, and indeed it has!
Even though there are so many different patterns and styles, it all seems to work! Even the varying shades of blue don't bother me. I once heard that it's "ok" to mix five shades of blue in the same design… I thought that was interesting but I see here that it can be true!
With all the crests and lion head ornamentation, I feel like I should dub this the "Royal Luncheon" tablescape… or perhaps a "Blue & White Royal Tea"… he-he!
I couldn't resist tucking this ornate silver box on a corner of the table – with all the other fancy crests, it was right at home!
Sometimes a minimal tablescape is pleasing but at other times I want something lush. Today was definitely a lush day!
These blue tulip shaped wine glasses were a Goodwill find. I have no idea who their maker is. Despite their humble origins, I think they are holding their own quite well here, don't you? I decided to fill these sweet little cordial glasses (manufacturer unknown) with a bud from my David Austin rose bushes – before the Japanese Beetles devour them all!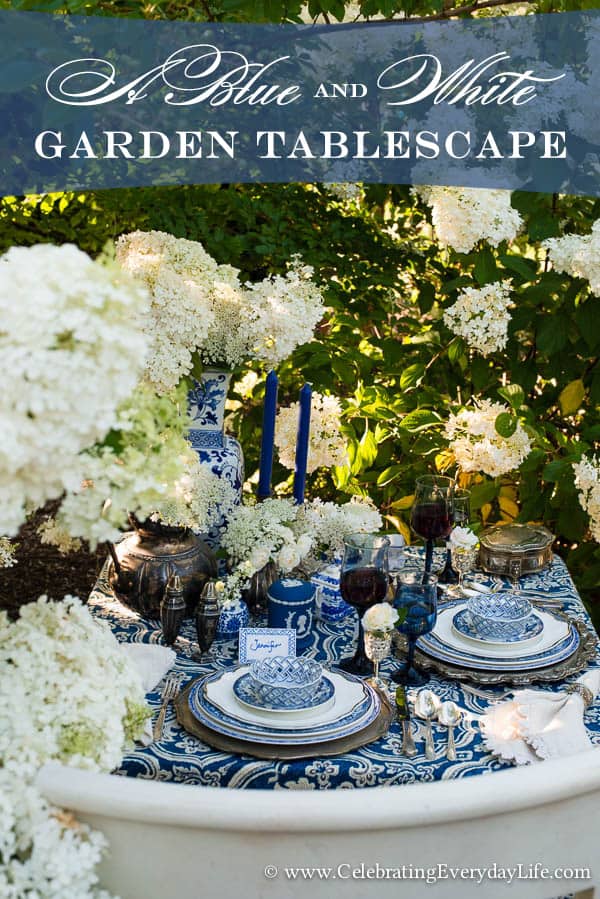 Come back on Monday to see a video tutorial (can you believe I've got another video tutorial for you already? I'm on a roll!) where I will show you how I made the tablecloth!
I hope you've enjoyed this table setting and found a bit of inspiration. I've created this handy little Pinterest ready image above for you to "Pin" if you are so inclined – and I hope you are 🙂
Thank you so much for visiting with me this week. I hope you have a wonderful weekend and I'll see you on Monday with that new video!
Happy Celebrating!
Would you like to receive a preview of my blog posts in your inbox?
I'd love to share them with you! Subscribe here…