How much do you decorate for Thanksgiving? Personally, I pay extra attention to the table and the buffet (if I'm having one) and that's mostly it. It seems like I put a bunch of decorations out for Halloween and Christmas and so it just seems easier to keep things a bit more simple at Thanksgiving. Are you like that too? I'm playing with a few different possibilities for my Turkey-day table. This month I'm planning to share several ideas I have for Thanksgiving tables in hopes that you will be inspired too! First up is today's Blue & White setting. With the cooling temperatures fresh flowers are becoming scarcer and scarcer (at least in my garden), so I decided to take on the challenge of creating a beautiful table that was flower-free. And here's what I came up with…
I liked the idea of having a chocolate brown accent and immediately pinecones came to mind! They have wonderful texture and look interesting in groupings – perfect for this non floral table.
And they make pleasing placecard holders for this handwritten cards. I like to reinforce the motivation of gratitude behind Thanksgiving and these sweet cards are a great way to get the ball rolling.
This placesetting is a combination of several different plates that all work together due to the color scheme. It begins with the base dinner plate which is Ralph Lauren Mandarin Dinner Plate. Next is a Royal Staffordshire Tonquin Plate
(affiliate links), and finally a Stuart & Sons "Stuart" luncheon plate.
A plain blue cotton napkin is dressed up with a napkin ring and a petite brown ribbon – making it suddenly feel extra special.
A few acorns and a small pinecone add a nice touch and continue the Fall non-flower theme.
A bit of brass (in the candlestick) add warmth to the table. I think silver would have made this a little too cool overall.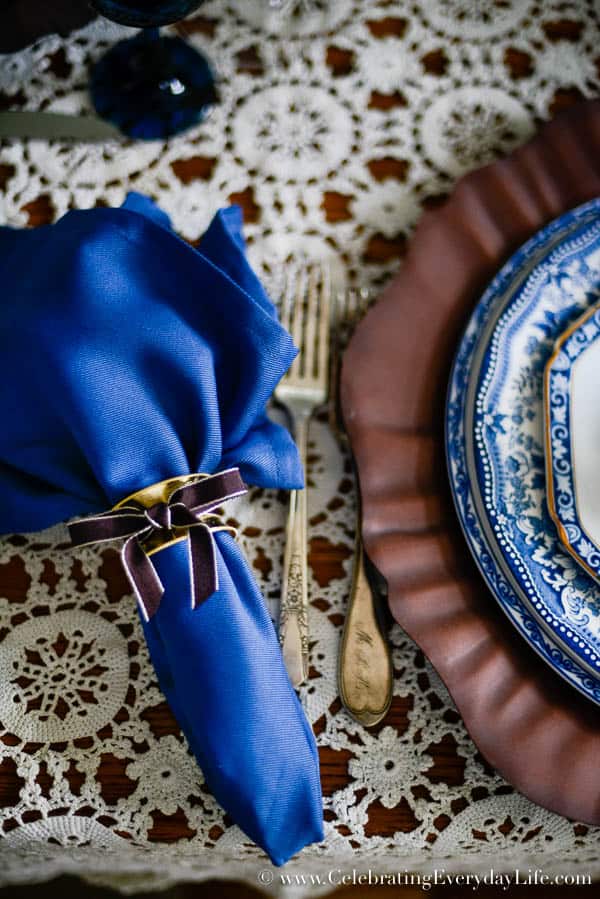 I think the lace tablecloth was nice here because it allows a bit of the dark wood to show through which lends to the chocolate accents.
If you are feeling generous, here is a pin-ready image for you to share:
I hope you see an idea or two that will help you plan your Thanksgiving table decor!
Happy Celebrating!