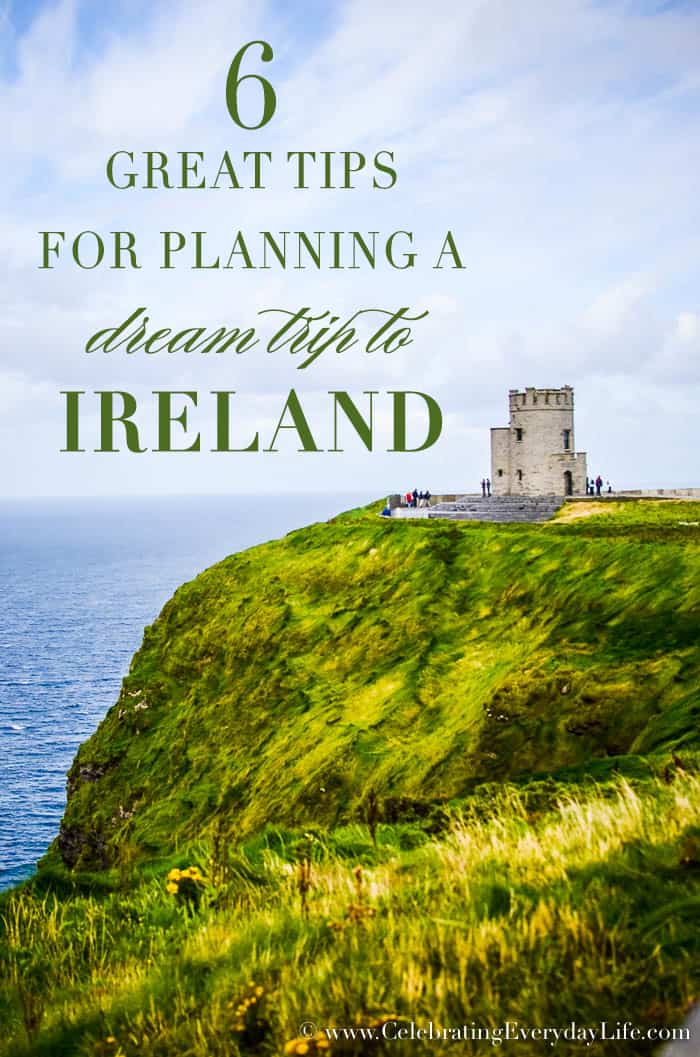 In just a couple of weeks we'll be celebrating St. Patrick's Day here in the U.S. and for many of us this jump-starts our day dreams of the ultimate way to celebrate – a visit to the enchanting Emerald Isle itself. If you have been wanting to trod the old sod, but aren't quite sure about how to get started, then I invite you to read on for my 6 Great Tips for Planning a Dream Trip to Ireland + plus a few do not miss Irish landmarks!
A couple of years ago I had the trip of a lifetime to this storied land when I went on a mother-daughter trip with my mom, my best friend and her mom. It was such a special experience that I will treasure always, and I'm so happy to pass on a few bits of advice to make your trip equally memorable.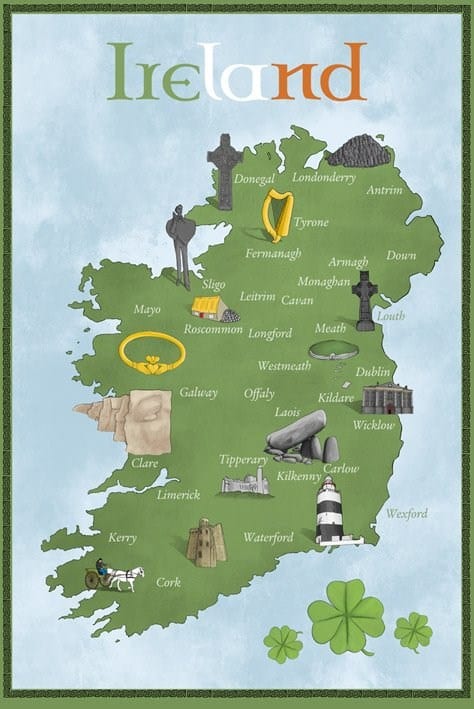 source
#1 -Pick your favorites but set limits so you don't exhaust yourself
The main downside to vacations like this is that they can be active (aka exhausting). If you are only going to visit for a week or so you may want to restrict your touring to just a county or two. You will still see plenty of gorgeous countryside/city and you won't end up spreading yourself so thin that you come home more exhausted than when you left – unless of course you can plan to take another week or two to recover when you return.
We mainly stayed within the boundaries of County Clare, Limerick, and Galway. Within these three we were able to take in breathtaking sights like the Cliffs of Moher, bustling cities like Galway and Limerick, charming smaller towns including Bunratty, and my most favorite of all the Village of Adare. Not to mention some pretty spectacular castles.
#2 – Live like a local
If at all possible I highly recommend you rent a cottage and live like a local while you are visiting. I love having a cozy home base to come back to each day and it's a lot of fun going to the market and discovering "how the other half lives." Most cottages come fully stocked with housewares making this a very easy home to settle into for your stay, and allowing you to experience this beautiful country in a richer and deeper way. Plus, if you are traveling with friends this will give you some room to spread out and not be too much on top of each other in the mornings and evenings.
Having your own kitchen is handy too, because eating out every single meal tends to get tiring (and expensive!). Even if you are only making a cup of tea and toast in the morning, it's such a pleasure to wake up and move about at your own pace. Another benefit of a cottage is that you also tend to have laundry facilities which will help you to not have to pack too much.
I recommend starting your search through a site like Ireland Country Cottages: http://www.irish-country-cottages.co.uk/
#3 – Pick up a map + Rent a car
Another key to living like a local is to get-about like one. Be sure to get a map of the area that you are touring. If you are visiting a city, and plan to stay in the city, then I recommend you use local public transport. But if you are planning to venture out, then I recommend a car. A couple of things to note about rental cars in Europe:
1) They are small; really, really small compared to most cars in the US. While this may not seem important to you right now, trust me when I say that it will matter to you when there are 4 women with luggage trying to figure out how to fit it all in. Don't be surprised if you catch the car rental staff trying to suppress their giggles while you are trying to creatively pack it all in. ?
2) Get an automatic transmission if you can. Not only do you drive on the opposite side of the road there but, as the driver you sit on the opposite side of the car which means that everything inside is switched as well. It can be a lot for you to take in and having one less thing to worry about (like how to shift gears with your right hand) can be helpful.
3) The small cars are actually quite helpful because the roads are super, super narrow. So slim that when you see a truck coming your way you may find yourself making the sign of the cross and wanting to close your eyes and dive into the hedge row.
4) One last note about driving, the road signs are quite different and you need to familiarize yourself with them before heading out. Also, the speed signs are posted in kilometers which are not the same as miles. I had a lovely chat with an officer about the difference (ahem) – thankfully he had mercy on a wandering (and slightly lead-footed) tourist!
5) Designate someone else to be the navigator – you are going to need all your wits about you as you travel through the many roundabouts and lanes. Having that extra pair of eyes to help you not miss a small sign or traffic light will be very welcome.
#4 – Pack light but bring layers
On my first trip to Europe I packed so many bags and felt like a fool as I lugged them through airports and train stations. That first trip so many years ago taught me a valuable lesson about packing light. Nowadays I try to limit myself to one suitcase and a large purse. I tend to take clothes that are not prone to wrinkle too much and that I can "dress up" with a scarf and a bit of jewelry. I have a few core tops and pants and a light sweater which can I easily dress up or down as the day requires.
A few keys other essentials for Ireland (and England too) include rain gear because it rains a lot! It was not unusual during the course of a single day to have periods of rain and periods of sunshine. So having a rain jacket and hat are essential. If you can work a pair of lightweight boots into your bag, all the better. I wore mine for the flight there and back saving me some room in my suitcase.
#5 Visit a Pub!
Pubs are like our small town diners here in the US – they are the heart of many villages and offer local color that is hard to find elsewhere. All pubs have a bar but they also have tables and serve food. We found that they are the best place to find authentic comfort food. My favorite was Bacon and Cabbage which isn't quite what you'd think but oh-so-delicious.
You can also try out famous Irish brews and ciders or enjoy a delicious cuppa!
#6 Be flexible with your itinerary
There are some stunning tourist attractions to take in and I definitely recommend you visit them but there are also some wonderful surprises you can find by stepping a bit outside the traditional tourist box.
Here are a few of my favorite tourist spots that we visited:
Cliffs of Moher – (pronounced like "more") are not to be missed! Even if this were the only site you visited, it would be worth it! The cliffs are breathtaking but be prepared for extremely high winds, and bring your rain gear – even if it was sunny when you set out, it could be rainy by the time you arrive. An umbrella will not help you here. A coat with a hood is your best bet, anything else risks taking flight and heading out into the Atlantic. There are a few shops at the base of the cliffs and I bought a lovely wool scarf at one to help with the biting cold wind – and it was early September!
Village of Adare and Adare Manor – This picture-perfect town was my most favorite place we visited on our trip. So much so that I begged our group to let us visit it on two separate days. The street is lined with darling thatched cottages, a lovely tea room, a beautiful church, quaint shops, and more and then of course there is the glorious Manor.
The Manor is like the Irish version of Downton Abbey. The architecture alone will captivate you – look carefully at the ornately carved railing circling the top of the building, it is actually a bible verse! Amazing!! The gardens are enchanting and there are even some ruins you can explore. If golf interests you then be sure to schedule a tee-time at this world-famous course.
Bunratty Castle + Folk Park – Step back in time when you visit this castle and village. I would say it is a very mild form of a theme park. There are guides and reinactors a plenty who help you imagine what life was like at the peak of this 15th century hamlet. It is extremely charming and do I highly recommend it. Touring the castle is quite interesting and the grounds are filled with animals, an old school, shops, a church and more. My mom took a moment to sing in the church which was a lot of fun and definitely a memorable highlight from our visit!
Galway & Limerick – for a taste of modern city life I do recommend you visit one of the many nearby cities. Galway was my favorite of the cities with its beautiful harbor views and vibrant downtown shopping area filled with colorful architecture, pubs, tea rooms, street theater, and shops galore there was definitely something for everyone here!
Dromoland Castle – for all out 5 star grandeur be sure to visit this majestic castle. We stopped in for tea at this magnificent castle hotel and were not disappointed. It is simply spectacular. The more than 400 acres of grounds and gardens are gorgeous and a joy to meander through (and a nice budget way to enjoy at least a piece of this storied spot). It is everything you dream of when you think of a royal castle!
While on our way to the above locations we also happened upon a few unexpected but pleasant surprises:
Graveyards – this might sound gloomy but they aren't, I promise. There are some truly beautiful graveyards with incredibly ornate headstones. It was quite interesting to see these ancient stones.
Horseback Riding – I love horses and couldn't resist the opportunity to take off on horseback over the hills and dales of Ireland. Finding a local stable to take me out on a private trot through the countryside was a wonderful memory, and definitely gave me a perspective I simply wouldn't have been able to view in any other way. Plus, through the stable owner we were introduced to the owners of a nearby small castle which we got to privately tour – what a joy!
Random Stops – there are several arbitrary sights you will spy from the road. From beautiful views, quaint woolen mills, tea rooms, local boutiques, and even ruins; when you have your own car you are at liberty to stop at any time and seize the moment. We discovered so many special moments and places by having the luxury of being able to pull off the road whenever and wherever the mood struck.
And there you have it! My 6 Great Tips for Planning a Dream Trip to Ireland + plus a few do not miss Irish landmarks! Armed with this practical knowledge I hope that you feel equipped and empowered to take the plunge and check this dream vacation off of your bucket list. It is truly one of the friendliest and certainly the greenest country I've had the pleasure of visiting. With a friendly smile and these tips you are sure to have plenty of Craic (that translates to "fun" to you and me!).
Happy Celebrating!